The School of Art is committed to offering a fine arts curriculum in a liberal arts context with diverse and vital programs for the study of the visual arts in Northern California. Its programs foster development of specialized skills, encourage personal creative direction, and promote understanding of the history and cultural traditions that shape artistic expression.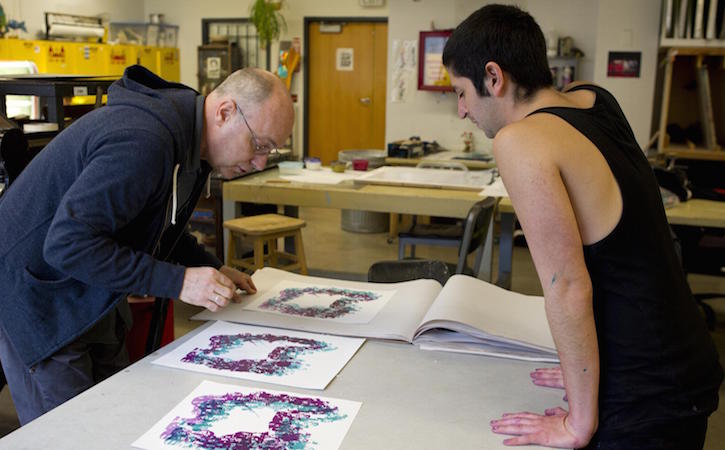 B.A. in Art
The Bachelor of Arts in Art program consists of a core and the choice of a concentration in art education, art History, studio art, or art history and studio art. The area of concentration focuses study in one specialty, but with a degree of breadth sufficient for understanding and awareness in other areas. All courses are designed to provide a broad experiential and conceptual orientation to the visual arts and art history. Advanced courses in the concentrations focus on perceptual skills, conceptual practices, creative expression and critical thinking. Attention is given to traditions and heritage of the discipline, contemporary issues and forms, imaginative problem solving, and written English proficiency within the discipline.
Minor in Art
The 24-unit minor in art is offered for students who wish to pursue a secondary interest in art on a structured basis. Students may elect to complete a minor in art if it is possible to complete the minor and current major within 120 units.
Minor in Museum Studies
The museum studies minor is rigorous, interdisciplinary and pre-professional in nature. Coursework emphasizes acquiring knowledge in museum practice and theory to understand the public service role of museums and to apply this knowledge to support the work of museums in creating exhibits, educating the public and caring for collections, through collaborative efforts.
Changing Major/Adding Minor
Any student interested in changing their major to art or adding the art minor must:
Attend a degree information session to learn more about the major/minor.
Attend a change of major/add minor session.
Juniors and seniors must complete course requirements.
See the Change of Major/Add Minor page for details.