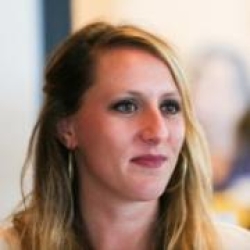 Gina Caprari
Museum Registrar, Global Museum, Lecturer in Museum Studies
Phone: (415) 338-6508
Email: gcaprari@sfsu.edu
Location: Fine Arts Building, Rm 301
Biography
M.L.I.S., Library Information Science, San Jose State University, 2017
M.A., English Literature, San Francisco State University, 2013
B.A., English, Cal Poly San Luis Obispo, 2009
Gina Caprari serves as the Registrar for the Global Museum, and also teaches as a Lecturer in the Museum Studies program at San Francisco State University. Having earned her Master's degree in Library Information Science with a focus in special collections and data management, she currently manages archives and registration projects for the University's museum.
In addition to her previous developmental editing work in the educational publishing field, Gina has managed inventory and care of a private rare book collection; documented ephemeral collections for a Los Angeles art gallery; contributed to digitization projects for the San Francisco Public Library's Neighborhood Archives through Internet Archive; coordinated archives projects at a local Bay-Area historical society; and contributed to various other records, time-based media, and copyright projects.
Gina worked in several administrative offices at SF State before joining the Global Museum team in 2015, including department administration and College student and curricular services. She enjoys working in a rich field promoting preservation of and access to critical cultural history.