The School of Art at San Francisco State University is focused on the production of future generations of socially engaged artists who understand that individual and collaborative contributions to culture are paramount to their practice.
Mission Statement
San Francisco State University's School of Art is located on the unceded and taken ancestral homeland of the Ramaytush Ohlone peoples, who are the original inhabitants of the San Francisco Peninsula. Our faculty and staff are committed to providing students with a comprehensive and relevant education in the visual arts and museum practices. We are locally and globally recognized for our artistic and exhibitionary practice as well as scholarly research. This, in turn, affords our students unique educational opportunities that extend beyond the classroom.
The School of Art is committed to the interests and personal goals of our students, whose rich diversity of backgrounds informs the learning and the teaching experience. We are dedicated to creating a learning environment that values the transformative power of curiosity and intellectual discovery. Students graduate with valuable and transferrable skills in creative problem solving, the ability to think conceptually and conduct art historical research, as well as applied technical competencies in diverse media (painting, photography, video, sound, ceramics, textiles, printmaking, sculpture, drawing, digital technologies) and in museum practice. These practical and technical skills and the ability to think critically, historically, and creatively are valued assets in many fields.
Outside of the classroom, the School of Art provides students with significant opportunities to exhibit and curate their work and to gain hands-on experience with the collections of our Fine Arts Gallery and Global Museum. In addition, students learn exhibition design and related research, writing, and curatorial skills as they engage in planning and organizing exhibitions for the student-run Martin Wong Gallery and in the Global Museum and Fine Arts Gallery. Our students also benefit from resources outside of the university as they participate in the rich cultural landscape of the San Francisco Bay area, which is recognized as a global center of culture and the arts.
The School of Art aligns with the institutional mission of San Francisco State University: to teach the arts and museum practice in ways that promote social justice and ensure equity among its diverse student population, many of whom are the first generation to attend college. Equipped with a solid foundation in interdisciplinary research, artistic, museum, and exhibitionary practices, our students have gone on to pursue graduate degrees and careers in and beyond the art and museum world, where they enrich and serve their community.
The missions for the M.A. in Museum Studies and the Minor in Museum Studies can be viewed on the Global Museum/Museum Studies website.
Brief History
Located in one of the most vibrant, culturally diverse and cosmopolitan cities on the West Coast, the School of Art has been growing a collective body of regionally and globally established artists since 1903. Amidst an array of San Francisco Bay Area schools and universities, it is a dynamic and affordable place to study studio art, art history and museum studies as an undergraduate or graduate student.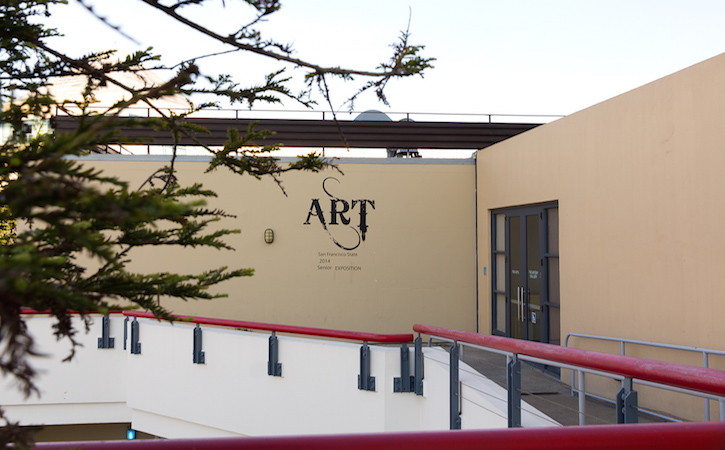 Quick Facts
Accredited by the National Association of Schools of Art and Design (NASAD). Facilities include a 3,000 square-foot professional gallery, the Martin Wong Undergraduate Gallery, the Global Museum/Museum Studies, and well-equipped studio facilities and computer laboratories.