Art facilities are located on the first and second floors of the Fine Arts building. School of Art facilities include a 3,000 square-foot professional gallery, the Global Museum, the Martin Wong Undergraduate Gallery, well-equipped studio facilities, computer laboratories and graduate studio spaces.
Studios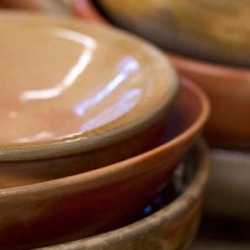 Ceramics
The ceramics area facilities includes space for production, surface design, firing, displaying and documenting work. The clay studio is over 1500 square feet and has tables for hand building, a large slab roller and extruder and 20 electric Brent wheels for throwing. The 800 square foot glaze room holds raw materials to mix glazes, in house and commercial glazes, a spray booth and spray guns. There is a 500 square foot critique room used to install work and give slide lectures. There are also gas and electric kilns. Students have additional access to the ceramic studio outside of class time and supervised access to the glaze and kiln rooms. Graduate ceramic students share a 1200 square foot studio for their own work. There is a small room used to photograph work connected to this space.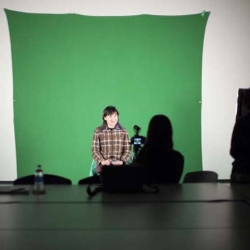 Digital Media
Digital media and emerging technologies (formerly conceptual information arts) brings together art, digital media and emerging technologies. Informed by a strong conceptual foundation and a focus on the impact of technology on culture and society, students learn digital production skills and experiment in emerging and cross-disciplinary practices.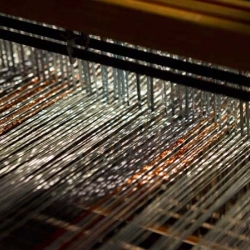 Fiber and Material Practice
The fiber and material practice facilities include spaces for weaving, printing, dyeing and laser cutting. The weaving studio has 21 Gilmore floor looms, three winding stations and a large yarn closet with a wide range of materials for student projects. The print area includes heatpress, Thermofax and sewing machines, large screen wet sink and two large 10-foot padded tables that provide space for screen printing and large projects. The dye lab has six state-of-the-art industrial induction burners, vertical steamer, ventilated ironing stations, washer & dryer and is fully stocked with fiber reactive and acid dyes.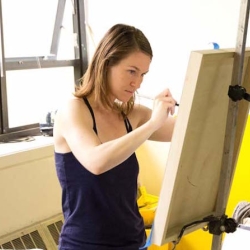 Painting/Drawing
Painting area facilities include three ventilated studios for a range of drawing and painting classes. They include a large Beaux-Arts style studio for all drawing courses and two medium sized studios suitable for painting. There is a rack room for clean up, hazardous waste disposal and painting and drawing storage. Current undergraduates and graduate students who are enrolled in art courses work in the studios throughout the day and evening whenever classes are not being held.
Photography
Facilities in the photography area include analog darkrooms and digital labs. For analog processes, there is a twenty-station group darkroom with 4x5 enlargers for processing prints, individual darkrooms for processing film and a group area for processing film. The digital labs consist of 12 Macintosh based work stations that are networked to two 24" wide Epson printers and 10 Epson V700 scanners. There is a specialized lab for working with extra large media up to 44" on two large format Epson printers and an 11x17" auto-duplexing black and white and color laser printer. Graduate students also have access to a separate black-and-white darkroom that they may set up for a number of specialized processes.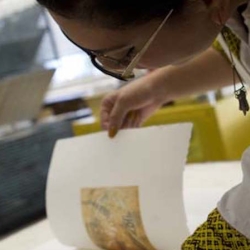 Printmaking
The printmaking area is equipped with studio space that promotes a cross-disciplinary approach. Intaglio, relief, letterpress, and lithography print shops are all connected allowing a free flow of alternative research to new methods of impressions. A computer lab for printmaking students also provides opportunities for digital explorations. Equipment and facilities available include three hand litho presses capable of printing up to 30" x 40" images from aluminum plates and stones, 3 etching presses, 2 with the capability of printing up to 30" x 40", 2 Vandercook letterpresses, darkroom including enlarger, copy camera, NuArc platemaker and digital options.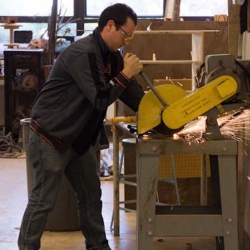 Sculpture
The sculpture and expanded practice area implements a wide range of traditional and experimental methodologies that coincide with fabrication, lectures and critique seminars. The area consists of approximately 9000 square feet of shops, workspaces, installation/critique space and graduate studios. The woodshop is furnished with a sawstop table saw, panel saw, sliding-compound-miter saw, band saws, routers, planers, jointer, a suite of stationary sanders, drill press, along with powered and manual hand-tools. The metal shop is equipped with M.I.G., stick, and oxy-acetylene welders along with a 40" foot sheer, band saws, bench grinders, belt/disc sander, horizontal band saw, chop saw, benders and an assortment of powered and manual hand-tools. The installation/critique space is equipped with a professional track-light grid on dimmers. There are two flexible indoor workspaces and a covered outdoor area, all with large work tables. Three graduate students maintain studios and contribute to the stewardship and leadership in the area.