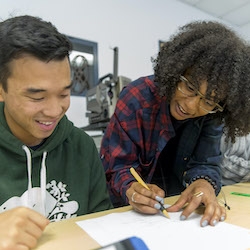 Undergraduate Advising
Majors in the College of Liberal & Creative Arts (LCA) should consult with two advisors each semester:
an advisor in the major and
a general education and university requirements advisor in the Undergraduate Advising Center
Students who are completing a minor or an additional major should see an advisor in those programs as well.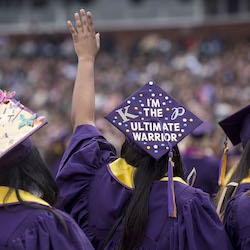 Students choose one of the following faculty listed under the first letter of student's last name, according to Major/Concentration. Email your advisor to schedule an appointment during their virtual office hours.
To Change/Add an Art or Art History Major/Minor
You must attend a degree Information Advising Session, offered four times each semester.
To reserve a spot for a Major/Minor info session, please email sch_art@sfsu.edu with the following information:
your name
SF State ID number
current major
rank
email address
interest in major or minor
To Change Major to Art or Art History or Add the Art or Art History Minor
Attend a mandatory degree information session to learn more about the majors/minors.  See above.
Complete an online Request for Change Major/Add Minor via SF State Gateway/MySFSU. (Go to the online Student Center. Under the Academics section, select Change Major from the drop-down menu and follow the instructions.)
To Change Concentration Within the Art Major
Meet with a School of Art faculty advisor to discuss change of concentration.
Go to the online Student Center. Under the Academics section, select Change Major from the drop-down menu and follow the instructions to select the new concentration. Email sch_art@sfsu.edu to notify the director of your concentration change so that they can approve it.
Adding a Second Major
A student can only add a second major if they can demonstrate that they complete both majors within the minimum units required to graduate (120-132 units, depending on the majors). They must complete a Petition to Add a Second Major form available on the Registrar's website and submit to the Registrar's Office for review.  Note: Please allow 4 to 6 weeks processing time
University Requirements
Students should check the University requirements about changing majors before attending an information session.  University requirements can be found on the Registrars website.
Students who wish to pursue teaching art in elementary or secondary schools as a career are advised to major in Art with a concentration in Studio Art.  The Studio Art concentration is aligned with the Subject Matter Waiver Program in Art, which provides a waiver for the CSET exam in Art and prepares students to enter the Single Subject Credential Program in Art. Students are also encouraged to minor in Education and/or take courses in Education as part of complementary studies, in particular E ED 450: Art and Learning. Students who are considering teaching art, should see an Education adviser before planning the major. Specific courses and competency assessment are required for admission to the credential program in this area. See the Graduate College of Education website for more information about the credential program and the CSET Waiver in Art. To complete a CSET Waiver in Art, please contact Susan Belau, who is a subject matter advisor in Art.