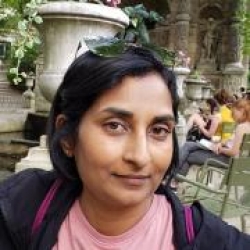 Santhi Kavuri-Bauer
Professor
Advising Coordinator
Phone: (415) 338-6511
Email: santhi@sfsu.edu
Location: Fine Arts Building, Room 266
Office Hours:
Thu:
1:00 p.m. - 3:00 p.m.
via Zoom
Meeting ID: 285 391 7261
Passcode: 2345
Santhi Kavuri-Bauer received her M.A. and Ph.D. from UCLA. She is the author of Monumental Matters: The Power, Subjectivity, and Space of India's Mughal Architecture (Duke UP, 2011). She has written essays on South Asian American photography and video and on the American encounter with South Asian Modernism. Her latest research investigates the concept of wonder or 'aja'ib and its uses in past and present Islamic monuments. She has received fellowships from the Getty Research Institute and the Graham Foundation for Advanced Studies in the Fine Arts. Her teaching and theoretical interests focus on psychoanalysis, postcolonial studies and social space.