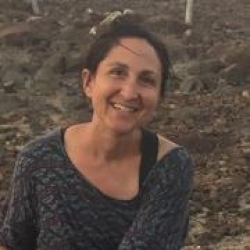 Ilana Crispi
Assistant Professor
Phone: (415) 338-1733
Email: icrispi@sfsu.edu
Location: Fine Arts Building, Room 197C
Office Hours:
Mon:
2:30 p.m. - 3:30 p.m.
Wed:
2:30 p.m. - 3:00 p.m.
Ilana Crispi teaches ceramics at San Francisco State University. Her work mixes traditional ceramic arts with local histories and geologies. Her site-specific installations invite engagement and investigate ideas of perception and the ways in which we experience our environments. Her interdisciplinary practice includes clay and dirt, as well as locally harvested food, junk materials and traditional craft. She has been the resident artist at the Rochester Folk Art Guild, Montalvo Arts Center, the de Young Museum, and at Jiwar and Can Serrat in Spain. Her work has been shown at museums, galleries and alternative sites nationally and internationally. Ilana has an M.F.A. from Mills College and B.A. from Brown University.