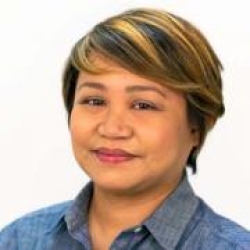 Christine Fogarty
Associate Director, Global Museum, Lecturer in Museum Studies
Phone: (415) 405-0599
Email: cfog@sfsu.edu
Location: Fine Arts, Rm 293C
Christine Fogarty is Associate Director of the Global Museum. Her primary duties include museum administrative operations; audience engagement; and support of internship logistics within the Global Museum and externally with museum community partners for Museum Studies graduate students. Christine was the Museum Studies Program's Academic Support Coordinator from 2000 – 2015, and a Lecturer in Museum Studies since 2007, teaching area emphasis courses in museum education and public programming. Prior to SF State, she worked for over 10 years in collections and educational programming at museums in the SF Bay Area and Seattle, Washington.
Christine holds a B.A. degree in Art/Art History from San Jose State; and an M.A. in Museum Studies and a teaching credential from SF State. She is especially interested in object-based learning, informal learning and pedagogy, culturally responsive teaching, and community engagement with non-traditional museum audiences, and participates in committees and professional activities in these areas. Christine serves as a board member for the Museum Studies Special Interest Group (MS Alumni) and staff liaison for the Museum Studies Student Association (MSSA) at SF State. Last year, she co-authored an article on exhibit accessibility through disability studies with Fran Osborne and Edward Luby (Exhibitionist, Fall 2014), and presented a lecture on museum career development at Utah Valley University in Orem, Utah.
When not in a museum, Christine enjoys San Francisco Giants baseball, 19th and 20th-century British novels, knitting, baking, and 80s music.
Website(s):