Honey, I Shrunk the Gallery! Student Space Goes Miniature in Coronavirus Era
As art schools worldwide create new ways to teach remotely and create online exhibitions, SF State's Martin Wong Gallery decided to shrink. Early in the fall semester, the School of Art staff built a three-dimensional, 1:8-scale model of the space and placed it inside the actual gallery, located in the Fine Arts Building. Exhibitions take place on the Martin Wong Gallery's Instagram, using miniature art that students have custom-made to be installed in the scaled-down gallery.
When art spaces closed in March due to the COVID-19 pandemic, Lecturer Kevin Chen noticed the Shelter in Place Gallery in Boston was thriving with a to-scale miniature space. SF State Fine Arts Gallery Director Sharon E. Bliss liked the idea so much that she reached out to Martin Wong Gallery Student Director Natasha Loewy, who agreed to help. They then recruited School of Art Instructional Support Technicians Gaelan H. Spor and Steven R. Garen to build a Mini-Martin Wong Gallery.
The actual Martin Wong Gallery space measures 22 feet by 24 feet. Spor and Garen created a detailed 30.5-inch by 33-inch version of the student-run gallery, down to the unusual shape of the room.
"We could have been more casual about it, but Gaelan and I are both pretty detailed [and] like specifics, so we measured every little thing that jutted out from the wall," Garen said.
Spor added: "It is not regular in any way; there are so many weird things that pop out. Yeah, it is just bananas."
Student Claire S. Burke featured her photography exhibition, "Negative Times," in October. She has found inspiration in making art at a much smaller, limited scale. Instagram also makes it convenient for her friends and family to view her exhibitions.
"People are asking, 'Oh, you have a show?' Where can I see it?' It's a lot easier to be like, 'Let me just DM it to you on Instagram,'" Burke said.
The Mini-Martin Wong Gallery will continue at least through the spring semester. Bliss, who oversees the Martin Wong Gallery, looks forward to continuing to help students with their miniature art.
"Anything I can do to keep the students engaged and keep them excited about their own work, and then again create these connections and these communities, I'm happy to do whatever I can," she said.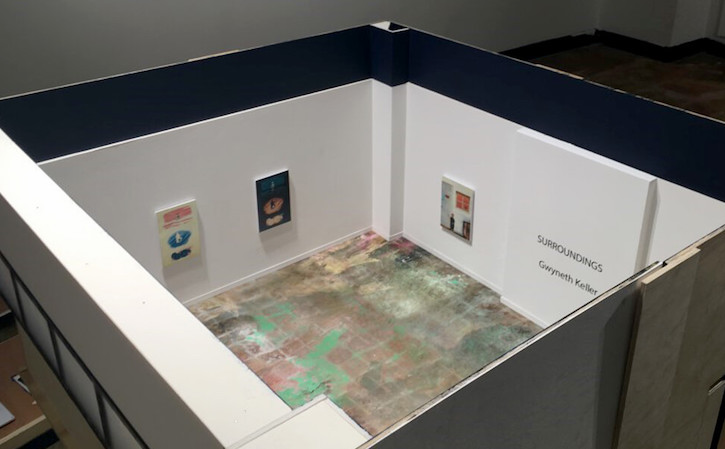 — Story and video by Christinna Bautista